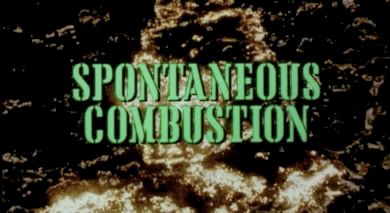 Throughout the 1940s-50s, the barrage of nuclear testing carried out in the United States was something both publicised and hidden at the same time. Most of these experiments and testing sites were kept isolated from the general populous and (for the most part) conducted without the inclusion of human subjects. However, history has revealed this to be a very different story as more and more information about the military's activities during that time has come to light that would have them subjecting men, women and children to irreversible health damage as a result of radioactive playschool. In Tobe Hooper's somewhat ill-fated horror schlock

Spontaneous Combustion

, the horrors of the atomic age are fused with the supernatural when an adult offspring whose parents were willing guinea pigs in a top secret nuclear project shows his captors what the gods of wrath would do if man were to ever inherit forces of fire.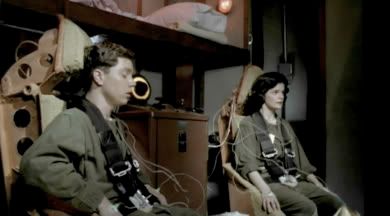 THE LOWDOWN:
1955, Nevada Desert, Hydrogen Bomb Testing Site. Two young lovers Peggy (Stacy Edwards) and Brian (Brian Bremer) are thrust into a wave of radioactive mushroom flames as part of the U.S Government's 'Project Samson' experiment designed to condition the human body to withstand nuclear power. The couple survive the trial with flying colours until it is learned that Peggy is pregnant with a young child and fears of radiation-related deformities begin to rise. When Peggy gives birth to a son, Sam (Brad Dourif), she and her husband suddenly burst into flames in the hospital, leaving behind two unusually charred corpses. Fast-forward to the present day as Sam, now a grown man at university, is living day dreams of becoming an actor while happily partnered with girlfriend Lisa (Cynthia Bain). However, when Sam begins to experience bizarre physical abnormalities and psychological trauma as a result of his parent's military meddling, he soon questions the true nature of his past and the government's growing interest in him as a curious killing commodity.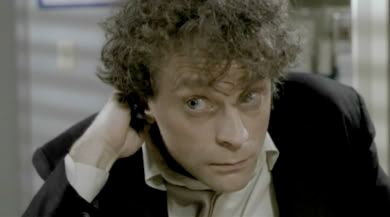 THE TERROR TALE & ITS TIMING:
Proclaimed universally by both critics and fans as a 'master of horror' after the international success of his breakout feature

The Texas Chainsaw Massacre

, director Tobe Hooper has seemed to forever struggle in following up that seminal films' impact and cinematic purity. Even 1982's

Poltergeist

, arguable his best effort since, remains to this day more influenced by producer Steven Spielberg's propensity for sentiment and Hollywood nobility than of Hooper's grittier pessimism. As most fans would agree the once supreme filmmaker's post-

Poltergeist

filmography generally leaves much to be desired and

Spontaneous Combustion

is just one of the many misfires (no pun intended, I swear) on the genre vet's notable, albeit patchy repertoire. The problems ultimately reside within Hooper's screenplay and its inclination to take a potentially intriguing idea and cheapen it by descending into silly theatrics and incoherent shock value. One may notice the films' immediate parallels with 1984's

Firestarter

(based on Stephen King's popular novel) and its well-intentioned social commentary about the dangers inherent with nuclear power, especially when in military hands. And while that film may not have been a complete success either, its story focus was much clearer, unlike Hooper's film whose delivery suffers in sincerity as a result of a story randomly slung together.
Such feelings of haphazardry arise primarily throughout the film's second act, one heavy on exposition and backstory in an attempt to make ends meet. Granted, the movie takes place in two time periods – 1955 and 1990 – and this automatically gives birth to a story dependent on filling in the blanks, however the majority of prior information is so incoherently explained by the film's elderly characters that it makes viewer investment dwindle more and more until you end up practically forgetting how the film started. For example, if Sam's parents died as a result of spontaneous combustion just hours after his birth, why didn't he suffer the same fate? Why would signs of his pyrokinesis only begin to surface so late in life? And why would film's shady government figures wait so long to attempt a capture of Sam if they knew his potential value to the military the moment he was born? These and many more successive plot holes are damaging to the movie's credibility and end up reducing the story to its eventual preoccupation with sideshow effects.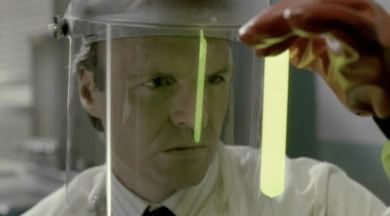 DOOMED CHARACTERS:
While the story is no doubt problematic,

Spontaneous Combustion

almost makes up for its faults via another brilliantly manic performance from the always reliable Brad Dourif. In no matter what film he appears, Dourif's uncanny ability to infuse a character with an intensity so concentrated and believable you can't help but be swept up in his plight, and this film is no exception. Adult Sam first appears as a relatively happy young man, free of confusion and strain and living his life with a loving girlfriend and a healthy education. And while perfectly competent in these early stages, it isn't until when the truths of Sam's past make themselves known that Dourif's portrayal of a tormented soul truly goes into overdrive. His commitment to character is at times astonishing as he often plays scenes so strongly he ends up finishing them soaked in sweat and tears (as evidenced in the pivotal phone booth conversation scene) – a dedication to performance rarely seen in the genre. His tireless work in the film also helps elevate the preposterous nature of the story, no matter how confusing the unravelling of the tale may be. The supporting players, including a thickly German-accented Melinda Dillon, a pretty intimidating Jon Cypher and a capable but confused-looking Cynthia Bain try their best to make sense of the material but ultimately melt into the background along with the copious human corpses. Although, be sure to look out for director John Landis in an AWESOME cameo as a twinkie-munching radio assistant who meets a grisly end...
THE LOOK OF FEAR:
One of the last optically composited movies before the new wave to digital technology took over the effects business,

Spontaneous Combustion

's flaming wizardry is generally well executed and impressive, considering its modest budget. Particularly effective is Sam's 'flaming arm' – a gaping hole in his flesh that emits a continuous stream of fire whenever he reaches an emotional peak – a running gag that still packs a punch in the light of contemporary movie magic. Most of the film's other pyrotechnics involve real fire elements shot separately against an actor's performance, those of which are then composited in post-production to create the impression of a burning victim. And while it may be easy to see the separation between the two components nowadays, Stephen Brooks' VFX work is to be commended in the light of the fantastical subject matter the film revels in. Hooper also knows how to keep his films looking visually interesting with energetic camerawork and flamboyant lighting schemes thanks to the slick contributions of DP and genre regular Levie Isaacks.
THE SOUND OF FRIGHT:
Apart from the blazing screams of agony and echoing infernos,

Spontaneous Combustion

's soundtrack is perhaps most noteworthy for being Graeme Revell's first venture into the American film market, a man now hailed as one of Hollywood's most sort after composers. His doom-laden, steely score is prominent and very effective, often recalling the work of Brad Fiedel and his efforts on the first two

Terminator

films. The more subtle musical moments of the film don't fare quite as well, however, with Revell at times seeping into cheesy synth melodies instead of underplaying the emotion.
FINAL THOUGHTS:
While not a complete miscarriage,

Spontaneous Combustion

is, in the end, a victim of its own scorched screenplay. Even though horror by nature doesn
'
t always have to make complete sense in order to be effective, it does need inspiration and the narrative center of Hooper
'
s film instead feels too dramatically deficient to be genuinely entertaining. If there is much to recommend here it is Dourif
'
s delightfully deranged performance and his more than ample capacity for the macabre. His presence alone should be enough to holds viewers minds amid the haze of conflagration and coal.


Dir: Tobe Hooper
Writer: Tobe Hooper & Howard Goldberg
Cast: Brad Dourif, Cynthia Bain, Jon Cypher, Melinda Dillon
Country: USA
Run Time: 97min
Rated: M+