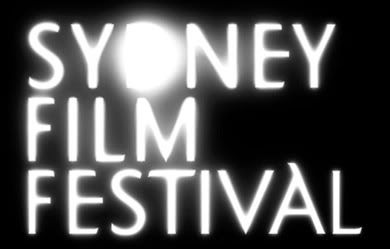 Evening, cretins!
A little while back I reported the current
'Freak Me Out'
line up for this year's
Sydney Film Festival
, consisting of
Mutant Girls Squad, Troll Hunter
and
Tucker & Dale vs Evil
(
CLICK HERE
to read the post). However, today the FULL list was released on the festival website, featuring another six - count em' - SIX titles!
The recent additions are as follows:
Corridor

(2010)
Director: Johan Lundborg, Johan Storm
Starring: Emil Johnsen, Yiva Gallon, Peter Stormare
Country: Sweden
Things couldn't be better for Frank, a confident young medical student who lives alone in a nice apartment and has no need for time-consuming distractions such as meaningful interaction with other human beings. That is until he meets Lotte, his needy upstairs neighbour whose unannounced and unwanted visits start getting on his nerves.
End of Animal

(2010)
Director: Jo Sung-hee
Starring: Park Sae-kyung, Kim Yeong-Ho, Lee Min-ji
Country: South Korea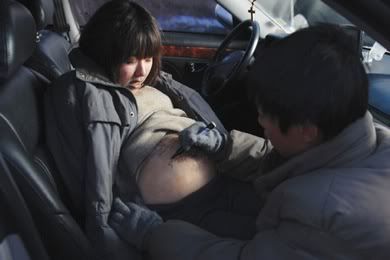 On a lonely stretch of road a cab driver and his pregnant passenger, Sun-yeong, pick up a possibly psychic and potentially dangerous young man who counts down to zero and then disappears. At the same instant all electrical and mechanical devices stop working. That's just the start of an utterly riveting drama that finds Sun-yeong encountering a succession of deeply damaged strangers on what she hopes is the path to safety.
Hobo With A Shotgun

(2011)
Director: Jason Eisener
Starring: Rutger Hauer, Molly Dunsworth, Gregory Smith
Country: Canada/USA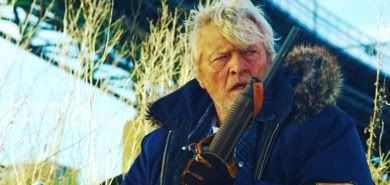 Cult kingpin Rutger Hauer is baaaack! Starring in the sleaziest piece of gutter trash to hit the screen in years, the 67-year-old is dynamite as an unnamed Skid Row bum who arrives (on a freight train, natch) at the hellhole of Hope Town and doesn't like what he sees. Helped by hooker-with-a-heart-of-gold Abby, the pissed-off pensioner swaps his walking stick for a shotgun and points it in the direction of the nastiest crime family you're ever likely to meet.
Kill List

(2011)
Director: Ben Wheatley, Amy Jump
Starring: Neil Maskell, Michael Smiley, MyAnna Buring
Country: UK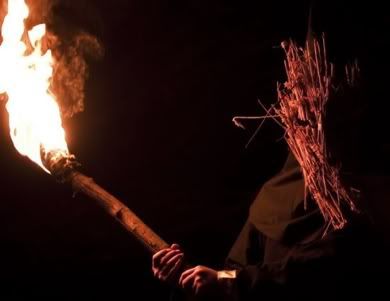 Jay's got problems. His marriage to Shel has descended into a screaming match, his £40,000 stash has disappeared and he hasn't worked in eight months. A former soldier who hasn't recovered from a 'stormy' mission in Kosovo, Jay's a hit man and he's hit rock bottom.
Septein

(2011)
Director: Michael Tully
Starring: Michael Tully, Robert Longstreet, Onur Tukel, Jim Willingham
Country: USA


Cornelius (played by writer-director Michael Tully), a Christlike figure and brilliant sportsman, has returned after an 18-year absence. Amos creates grotesque art in the barn, while Ezra dons a frock and does the housework. Then there's Wilbur Cunningham, who lives in a tyre in the backyard. When a plumbing problem needs fixing the you-know-what really hits the fan.
Stake Land

(2011)
Director: Jim Mickle
Starring: Nick Damici, Conner Paolo, Kelly McGillis
Country: USA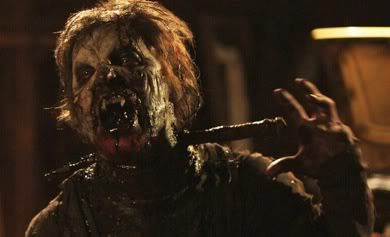 Striking the perfect balance of bloody thrills and pungent social commentary, ace director and co-scripter Jim Mickle (remember that name) centres his tale on teenage orphan Martin and his tough-as-nails vampire-slaying guardian, 'Mister', surviving on the road after America is overrun by bloodthirsty beasts. What separates this film from the pack is the added threat posed by Jebediah, a fanatical Christian fundamentalist whose followers believe the monsters have been sent by the Almighty himself.
The festival kicks off on
June 8th
and continues through until
June 19th
.
Once again, visit
sff.org.au
for more information about booking tickets, venues, etc.