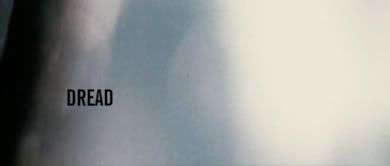 The psychology behind human fear is perhaps one of the most confounding mysteries modern man will ever face. How is it induced? To what extent does it govern our actions? Can it be definitively controlled? Whether we were preordained to figure out its intricacies is certainly debatable, however the curiosity for deciphering its anonymities is undeniably there and will no doubt drive the inquisitive to the nth degree in order to solve it. Beloved horror scribe Clive Barker's famed
Books of Blood
series featured a short story by the name of
Dread
that put the psychosis of fear squarely in the limelight, now recently adapted (and expanded upon) in a film by the same name. Unlike many a failed Barker adaptation, director Anthony DiBlasi's nifty little shocker successfully captures the author's love and sincerity for the macabre and turned in a surprisingly intelligent and thoughtful horror study about the things most of us keep hidden well below the surface of public view.
Outcast film studies student Stephen (Jackson Rathbone) one night forms a bond with fellow scholar Quaid (Sean Evans), a somewhat charming but highly objectionable young man who at the age of 6 endured the terror of witnessing his parents being murdered by an axe wielding maniac. A secretly tortured soul, Quaid soon convinces his new partner in crime to assist him in the making a documentary thesis about the nature of fear and with the help of Stephen's classmate Cheryl (Hanne Steen) they begin interviewing willing college participants about their innermost apprehensions. Unbeknownst to his production team, Quaid grows dangerously obsessed with the interviews, causing Stephen to question the fanatical student's real motives for making the film and the extent to which his own person demons plague his increasingly unstable mind.
The darkly existential disposition of
Dread
's narrative direction is made abundantly clear through its opening scene of conversation between Quaid and Stephen as they muse over their place within the world and the effects of traumatic events suffered years prior that govern their actions to the present day. From this and the continually thought-heavy scenes that follow it becomes obvious that director Anthony DiBlasi isn't playing around and has intended for a serious horror film experience with a very relatable concept at its heart, one that will no doubt confront and challenge even the most jaded of viewers by virtue of its fervor alone. The terrific screenplay (expanding on the somewhat restrictive bounds of Barker's story) invests considerable time composing its lead characters, paying particular attention to the compulsive and mentally dubious Quaid who at first appears as if he may emerge as the films' protagonist – a sly but effective misdirection indeed. What's more the story is deliberately paced and modeled upon his ever-diminishing emotional state, hindering at an unpleasant end and yet continually eliciting intrigue as to what form it may take. Evans' strikingly committed performance is a treat to watch and further contrasted by Rathbone in a solid pre-
Twilight
appearance. Also notable is Laura Donnelly as Stephen's insecure friend in an added role not featured in Barker's original short material.
Interestingly,
Dread
is also a subtle yet intensely visual film and in many ways just as dark as it's austere subject matter. Like the gloomy existence in which its characters reside, cinematographer Sam (
The Descent
) McCurdy implements an impressive depth of shadow and overall menace to almost every scene, serving not only to exemplify the drama but even steep the movie within a world practically foreign to that of our own; one far more representative of the fractured territory Quaid insists on taking his new best friend. DiBlasi also doesn't skimp on the gross-out factor (one scene in particular is likely to have vegetarians swinging their head over the nearest toilet bowl) and makes sure to execute his shocks when they matter the most.
It could almost be said there aren't enough horror movies that attempt a sincere inquiry into the res en' d'être of the genre, at least not truthful ones. Furthermore, whether or not
Dread
succeeds in delivering an articulate evaluation of the mechanics behind human fear is arguably irrelevant, just as long as we the viewer are drawn into its plight if all but for a moment. As a concept movie it's effective enough that it will undoubtedly make you think twice about confessing anything to the lens of a video camera without first being totally aware of the intended audience.
Dir: Anthony DiBlasi

Writer: Anthony DiBlasi

Cast: Jackson Rathbone, Sean Evans, Hanne Steen, Laura Donnelly

Country: UK/USA

Run Time: 108mins

Rating: R18+