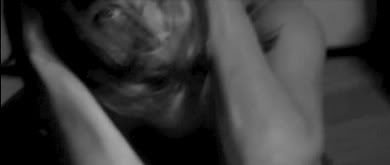 An up and coming independent filmmaker based and working out of New York, Jeremiah Kipp has a long-standing passion and enthusiasm for the horror genre and his many distinguished efforts in the fright field reflect his infatuation. His latest project, the short film
Contact
, is an effectively moody envisioning of hallucinations, nightmares but more importantly a heartfelt portrait of a family in crisis due to the ramifications of drug abuse.
The film opens on a somber note as parents (Tom Reid and Katherine O'Sullivan) quietly set out a dinner table in waiting for their daughter Koreen (Zoe Daelman Chlanda) to arrive. There is an unnerving silence held between the two as they exchange looks at one another, both appearing to share the same dreaded emotions.
Meanwhile, Koreen and her lover Westy (Robb Leigh Davis) amble through an urban concrete jungle and soon meet up with drug dealer Rowan (Alan Rowe Kelly, also credited as producer) who hooks them up with a decidedly dangerous substance of which they are informed to "take together". Later, the couple sit in an apartment loft and begin inhaling the new chemicals, at first in a state of euphoria and jubilation. Unlike her boyfriend, however Koreen slowly begins to experience a plague of sights and sensations not at all comfortable, sinking her mind deeper and deeper into a world of horrific torment of which she may have no control over..
Right from the get go, Kipp is adamant on creating a world where your perceptions of truth and reality are thrown into the abyss.
Control
's beautifully atmospheric and ambient frame of mind help generate genuine feelings of disquiet and unease, further adding to the overall impact of the story. Kipp's purposeful screenplay and attention to its subtle power is brilliantly expressed throughout, never overstating the obvious or resorting to phony or untruthful depictions of human emotion. One must also remember, the short film format offers very little time to build a consistent tone and impression of milieu, therefore Kipp and Co.'s efforts are impressive to say the least.
A film low on dialogue but heavy on looks requires a cast of players imposing enough their expressions alone are able to convey the weight of a story. Thankfully, leading lady Chlanda's immediate beauty and charisma, combined with her greatly nuanced performance create the perfect depiction of a woman peril, albeit desperate to connect with someone who loves her. Co-star Davis also turns in a solid portrayal while Reid and O'Sullivan paint a world of parental anxiety all too real and believable.
Visually, the film is stunning and completely representative of its intended mood. The monochrome palette is immensely effective and Director of Photography Dominick Sivilli's use of light and shadow is both chilling and attractive at the same time; the contrasts rich and palpable. Kipp also employs plenty of movement with his cameras when necessary, keeping the energy alive and vigorous during scenes of action and intensity. The surreal effects work by Daniel J. Mazikowski and its execution during the delirium sequence recalls the work of Screaming Mad George and his creations for Brian Yuzna's
Society
, perversely appealing and disturbing in equal amounts.
Coupled with the film's lasting performances and strong visuals is the almost dominative soundtrack, a work of immensely complex sonic power and concentrated influence. Unrelentingly foreboding and ominous, Tom Burns' music mix and sound design is truly something to absorb and a work of vastness that will resonate with you long after viewing.
Despite a slightly gimmicky shock ending,
Contact
is a hugely successful short film and a confident directorial work from Kipp that proves he has both talent and integrity in equal measure. The film works both as an eerie genre piece as well as an anti-drug meditation, however bizarre its depictions may be. Independent films this good are hard to find so do yourself a favor and check it out at
Shroggle.com
.



Dir:

Jeremiah Kipp


Writer:

Jeremiah Kipp


Cast:

Zoe Daelman Chlanda, Robb Leigh Davis, Tom Reid, Katherine O'Sullivan


Country:

USA


Run Time:

10mins


Rated:

N/A