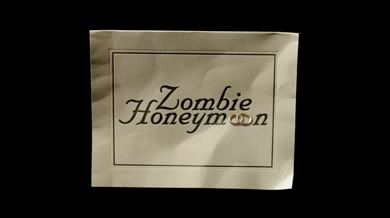 The coda 'Till Death Do Us Part" is almost spoken without intention or consequence these days. In the sanctimonious tradition of marriage when two significant others choose to embrace each other in holy matrimony a connection is ideally formed, one with the implication of withstanding any and all trials/tribulations undertaken by those making it. A serious pledge to be sure and one repeated day in, day out by lovers the world over. But what if something were to dissuade that heartfelt bond? Something so ghastly and wicked whose sole purpose it would be to destroy the love and affection inherent to such a relationship? And could that something be…the
undead
? David Gebroe's surprisingly earnest and emotionally engaging sophomore effort
Zombie Honeymoon
has the endorsement of both John Landis and Fangoria Magazine but it truly stands alone as the first zombie flick to also serve as a tragic love story. And no, its not sacrilegious by any means.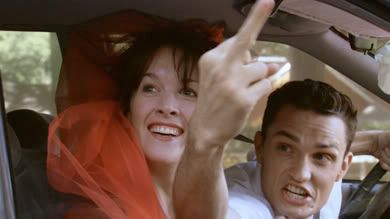 THE LOWDOWN:
Newlyweds Denise (Tracy Coogan) and Danny (Graham Sibley) flee to an uncle's holiday house for the honeymoon of a lifetime. At first everything is picture perfect as both are madly in love and each have a bright future ahead of themselves. However, one day when relaxing on the beach Danny is attacked by a hideously deformed swimmer who smothers him with a toxic substance which puts him in the hospital later to be pronounced clinically dead. Then in a bizarre turn of events Danny returns to life and, to the bewilderment of doctors, is fit enough to return home. Gracious beyond words, Denise is overjoyed at her husband's new lease on life but soon notices some subtle changes in Danny over the coming days. To her horror she returns home one afternoon to find Danny feasting like an animal on the bloodied corpse of a nearby neighbour and, in a fit of anxiety, attempts to abandon Danny. Begging her to stay and help fight his cannibalistic desires, Danny must prove his love for Denise in order to save her sanity, as well as her life. But how far will she go to protect her husband and their once perfect relationship?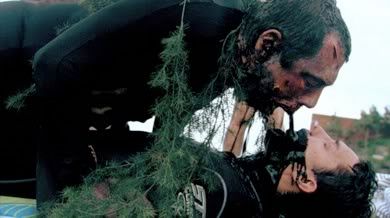 THE TERROR TALE & ITS TIMING:
A lot of horror movies would try and have you believe a phony love story in order to 'humanize' the mayhem and bloodshed surrounding the proceedings, however many of these affairs are often underwritten and superfluous to the action at hand, despite good intentions. Whether these filmmakers are conscious of it or not remains unknown but unlike such flawed attempts at love depicted,
Zombie Honeymoon
's central focus IS the love story and thus its portrayal of affection is aptly genuine. The film's moral centre is strong and apparent from its opening sequence, making themes of commitment and devotion to one's partner a key focus amid those of Denise's increasing paranoia and the impending police investigation. But don't let the sentiment divert your attention away from the grotesque; Gebroe's film still has its fair share of grue and enough horror shtick to satisfy diehards of the walking dead genre as well. Ultimately though, this is a tragic love story between two people who cannot live without one another and who will do anything to keep their marriage vows alive.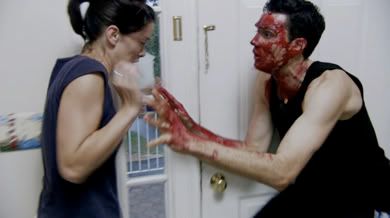 One element of the film that displays its aptitude is Gebroe's smart screenplay. He is extremely adept and conscientious of both the films' pacing and story development over time and subtle enough to respect the character's sensitivity to the drama at hand and their reactions to it as grieving adults on the brink of total destruction. The fact Danny becomes a zombie is merely an alternative means of communicating otherwise fairly common dramatic ideas of infidelity, trust, loyalty, etc. As the story evolves and the dynamics between the couple become more volatile, the undead mask becomes a metaphor for the gradual disintegration and deterioration of a once healthy relationship into something practically beyond recognition. Sly it may be, the substitution works wonders and further helps the film express its ideas in a sincere…and gruesome way.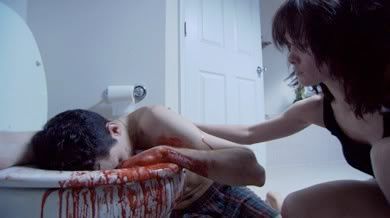 DOOMED CHARACTERS:
A film so reliant on the likeability of its characters in order to communicate the complexities of the story,
Zombie Honeymoon
strikes a real cord with its two lead stars, both of whom are equally believable
and
likeable. Danny and Denise are sensitive, receptive and thoughtful characters and luckily Tracy Coogan and Graham Sibley make a fantastic match and really work hard to pull off the impression of two people crazily in love, never over-endorsing their performances with unnecessary sentiment or implausible emotion. There is also an element of seriousness taken to the psychology of the films' leads; in particular Denise's gradual decent into sorrow and misery as she becomes increasingly helpless to the demands beset by Danny's growing hunger for human flesh and the inevitable toll it takes on the relationship. Thankfully, the inner turmoil suffered by both characters is treated with a genuine honesty and truthfulness that avoids amateur forces of self-reflective monologues or trite dialogue. Even more importantly, Gebroe takes time in building a credible relationship between the two and one restrained enough to avoid potentially unintentional moments of humour, given the absurd nature of the story at hand. Needless to say, if the film were cast carelessly they would have ended up with a very different result indeed.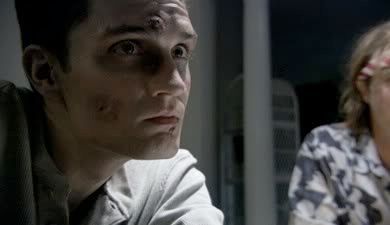 THE LOOK OF FEAR:
Despite its simple story and low-budget production roots,
Zombie Honeymoon
is an impressive looking movie. Appearing to have been shot on HD video and with minimal production resources, cinematographer Ken Seng has collaborated with Gebroe to craft quite a slick aesthetic throughout the film, one very sensitive to composition and natural light sources. For example, there is one ingenious shot toward the end of the film involving two characters and a pool of blood that fully encompasses the tragedy of the story in a simple and beautiful way - you'll know it when you see it. Some of the horror sequences that take place toward the end of the film are at times a little too dark and grainy, however this never disrupts the immediacy of the action on screen – in fact it probably enhances it. The effects work by Joe Macchia and Tate Steinsiek is adequately nasty (the throat-gouging kill being particularly vicious) and further helps reinforce the film's noted appeal to hardcore genre buffs. Also of interest to fans is Danny's zombified makeup, reminiscent of Tom Savini's pale blue-faced creations in
Dawn of the Dead
.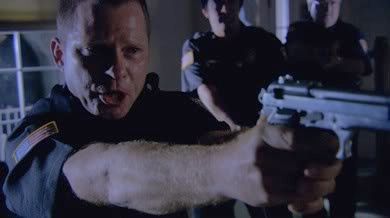 THE SOUND OF FRIGHT:
Respectful of its focus to character and story, the music of
Zombie Honeymoon
mirrors its introspective sensibilities by never resorting to overly melodramatic orchestration or cheap shrills of shock suspense. Michael Tremante's delicate and understated score provides a sympathetic poignancy rarely found in onscreen love stories and the films' already astute awareness greatly benefits as a result. On the opposite end of the spectrum are the particularly unnerving sound effects: bone-crunching, intestine-slurping, cartilage-gnawing atrocities fill the shadows of the honeymoon homestead and corners of Denise's mind as Danny feasts on fresh victims, the horror of his transformation made all the more effective through such auditory nightmares.

FINAL THOUGHTS:
Unlike any living dead film that has gone before,
Zombie Honeymoon
showcases a unique intelligence and talent that makes it compulsively watchable upon repeat viewings. It unfolds with a grace and style comparable to a classic drama, thanks to stellar performances and a thoughtful script that immediately elevate it from its prospectively cheesy scenario. Allegorically skilful as well as mindful of its genre potential, Gebroe and co. have aimed to make a serious film about about an essentially preposterous subject and have succeeded with flying, bloody colours.

Dir: David Gebroe
Writer: David Gebroe
Cast: Tracy Coogan, Graham Sibley, Tonya Cornelisse, David M. Wallace
Country: USA
Run Time: 83min
Rated: MA+